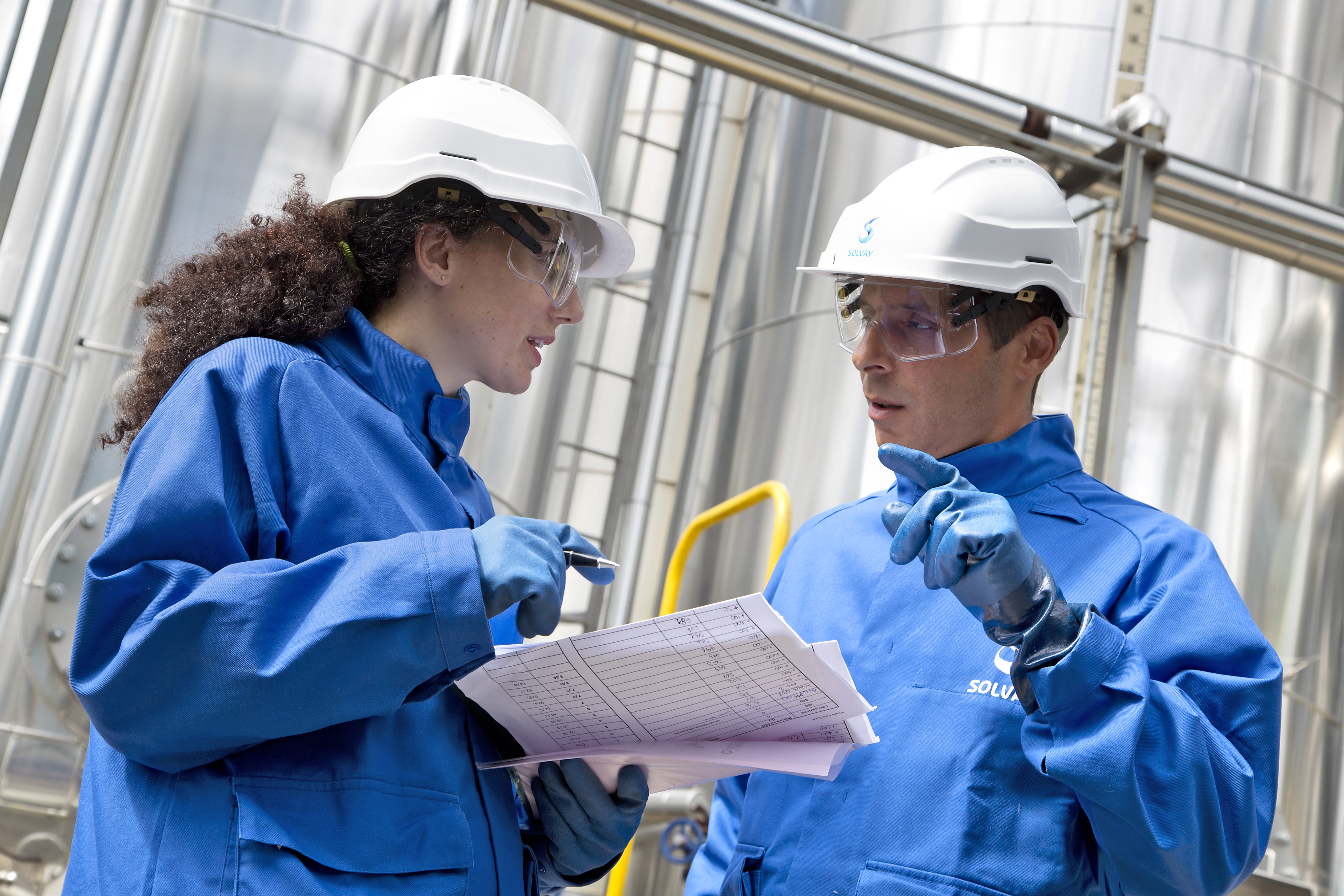 Who We Are
Pioneers in the Flame Resistant Fabric Industry
Our long history began more than 60 years ago with the invention of the PROBAN® process, based on natural fibers. Our journey is ongoing today as we continue to play a pivotal role in protecting millions of lives worldwide with solutions engineered for flame resistant (FR) clothing.
Solvay offers customers across various industries technical solutions for manufacturing comfortable and durable flame resistant workwear ౼  ranging from lightweight to insulated. With PROBAN®  technology at the core of FR garments, workers in high-risk environments ౼ including oil and gas, electrical utilities, metalworking, steel, chemicals and industrial applications ౼ can feel confident about staying safe and comfortable. PROBAN® workwear can withstand arc flash, molten metal splash and deliver flash fire protection.
When safety is of the utmost importance, we understand the critical need to ensure protective clothing is carefully selected and worn properly. Our committed teams are dedicated to managing our customers' protective clothing programs around the world.
High Standards for Your Peace of Mind
We are the only company that provides independently accredited quality control, garment traceability back to where the textile was manufactured and compliance with international standards. Our high standards provide peace of mind to purchasers and wearers alike. While we operate on a global scale, our network of core partners meets the needs of local markets in more than 100 countries, providing coast-to-coast solutions across North America, South America, Europe and Asia. 
Behind the scenes, Solvay's ISO 17025 accredited labs in the United Kingdom test and profile several millions of samples every year to verify flame resistant performance. Every yard of PROBAN® fabric delivers unquestionable FR performance and provides unparalleled protection to workforces around the world.
It's simple. If an article of flame resistant clothing carries our label and name, it carries our performance promise: PROBAN® is engineered to work as hard as you do while providing safety and peace of mind. This commitment to safety is deeply personal, as our own employees rely on the performance of PROBAN®-enabled flame resistant fabrics.  Nothing is more important than getting those who wear PROBAN® garments back home to their families, day in and day out.
Protecting Workers Across Industries
Flame resistant protective clothing is a vital part of workplace safety across several industries. Ensuring that every worker is protected in compliance with the right standards and with the proper garments can save lives.
Oil and Gas
Oil and gas-related flash fires most commonly occur while drilling and servicing wells or during production-related operations where temperatures can reach 850°C.  

 
Electrical
In electrical utilities, where temperatures can climb up to 1500°C and may be accompanied by the risk of arc flash, risk assessments are fundamental in determining the protective clothing arc rating. 

 
Metal and steel
In the metalworking and steel industries, workers encounter metal sparks, molten metal and radiant heat exposure. 

 
Firefighters
As wildfires across the globe increase in frequency and severity, wildland firefighters need to protect themselves against radiant heat, sparks, fire and even electrical hazards from downed cables. They need garments that provide both excellent protection and comfort while also minimizing the risk of heat stress. 
At The Core of Flame Resistant Fabrics
PROBAN® is a license to reliable flame resistant clothing that protects workers around the world.